The cryptocurrency market is experiencing a bullish surge as Pepe Coin (PEPE) skyrockets with an impressive 40% gain. This has sparked curiosity among investors and crypto enthusiasts, leading them to wonder if other popular cryptocurrencies such as Shiba Inu (SHIB), Dogecoin (DOGE), and FLOKI will follow Pepe's upward trajectory.
Pepe Coin Surges 40%
Despite the ongoing SEC lawsuit against major exchanges like Binance and Coinbase, the cryptocurrency market has shown resilience and made a comeback. The recent bounce back was further bolstered by investment giant BlackRock's application for a Spot Bitcoin ETF.
Read Latest Appicants For Bitcoin ETF..
Amidst this positive news, Pepe Coin (PEPE) has emerged as the biggest winner of the crypto rally, experiencing a remarkable surge of over 40% within a span of 24 hours.
While its weekly performance demonstrates a remarkable surge of 69.96%, in the past 24 hours, DOGE has seen a rise of 6.10%, currently priced at $0.06826. Over the course of 7 days, DOGE has experienced a gain of 13.61%, highlighting its steady growth.
SHIB and Its Rival Follow Suit
SHIB is currently priced at $0.000008195, with a notable 10.75% increase in the past 24 hours. Over the span of 7 days, SHIB has demonstrated an impressive growth of 24.81%. CoinGape also reported its burn rate spike over 7000% in 24 hours. Similarly, its rival FLOKI has shown promise, with a value of $0.00002643 and a 12.85% increase in the last 24 hours. Over the past 7 days, FLOKI has seen significant growth, boasting a rise of 26.27%.
Adding to Lookonchain, in chain analysis platform, a prominent whale known as "0x31f5" made noteworthy purchases of PEPE just after major sell-offs were reported by CoinGape. This whale invested a staggering $4.54 million USDC and 150 ETH (equivalent to $287,000) to acquire 3.43 trillion PEPE tokens. The first transaction resulted in a substantial profit of approximately $11.47 million, while the second transaction incurred a loss of around $741,000.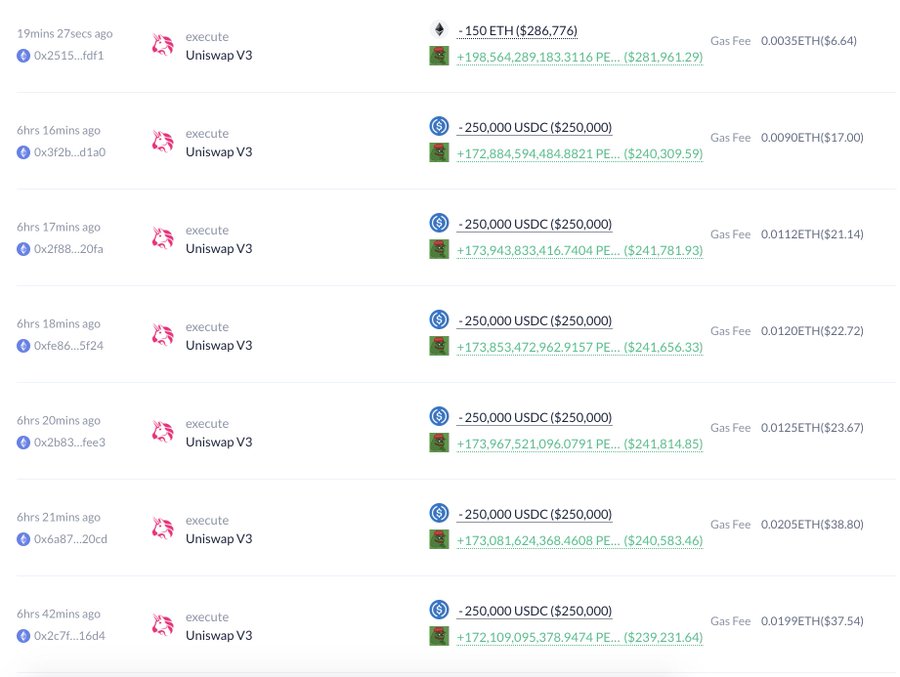 PEPE has an market cap of $558,642,539, a 35% rise in last 24 hours. Due tp price surge and whale movements, the trading volume has also hiked 251.57% reaching $691,493,298.
The post Pepe Coin Skyrockets 40%, Will SHIB, DOGE, and FLOKI Follow? appeared first on CoinGape.