Legendary trader Peter Brandt suggests investors to go long on Bitcoin as BTC price stabilizes over the $30,000 psychological level amid positive sentiment in the broader crypto market. The second largest cryptocurrency Ethereum (ETH) surges over 10%, continuing upside momentum after the Shanghai (Shapella) upgrade.
Peter Brandt in a tweet on April 14 revealed that he is bullish on Bitcoin, Nasdaq, Gold vs YPY, London Cocoa, and Gold. He recommends to long Bitcoin and predicts a BTC price target of $40,000.
In the weekly timeframe, Bitcoin price pattern indicates strong possibilities of hitting $40,000, with strong support at $29,190 and $25, 288.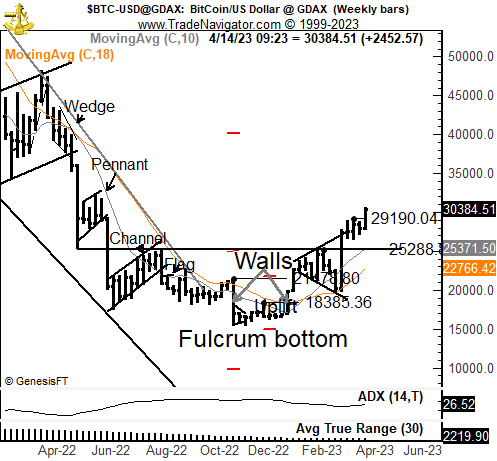 CoinGape Media first reported Bitcoin price hitting $30,000 this week, with experts predicting strong possibilities of hitting $35,000. In the last 24 hours, BTC price has soared over 2% to hit a high of $30,874. The price is currently trading at $30,724.
30,500 BTC options with a notional value of $0.93 billion are set to expire today, with a Put Call Ratio of 0.99.
The max pain point for Bitcoin price is $29,000. In addition, 260,500 ETH options with a notional value of $5.5 billion are about to expire, having a Put Call Ratio of 0.83 and a max pain point of $1,850.
Ethereum Price Likely to Outperform Bitcoin Price
ETH price skyrocketed over 10% in the last 24 hours, with the price currently trading at $2,116. The 24-hour low and high are $1,910 and $2,126, respectively.
While Bitcoin has rallied nearly 85% this year, Ethereum is likely to outperform in the near future. Relative spot demand for ETH is increasing and futures markets are indicating a potential shift toward ETH. Today's expiry clearly confirms that ETH has more demand than BTC as more ETH options are set to expire today.
According to  TokenUnlocks, almost 240,000 staked ETH have been withdrawn and nearly 100,000 ETHs have been deposited after the Shanghai upgrade. Currently, 1.01 million ETH are waiting to be withdrawn. Kraken due to its settlement with the US SEC accounts for 63% staked ETH removal, Coinbase accounts for 11%, and Huobi accounted for 5.1%.
Also Read: CFTC Chair Rostin Behnam Reprimand Binance For Deliberately Breaking US Laws
The post Legendary Trader Peter Brandt Shares New Bitcoin Target, ETH Price Soars 10% appeared first on CoinGape.